We here at Global Lipstick believe that culture is cool….hues are too!  We love to see women owning it, workin' it, and doing it OVER THE WORLD!!!  One of the most basic ways to accomplish all of the above is to have the confidence to get it done. CONFIDENCE
IS KEY. Period.  Makeup artist/teacher Alexandra "Alex" Butler gives women the flawless look they need to face the world.  Her artistry has been seen on VH1, Bravo, Us Weekly, numerous brides and more.  Most recently, she has taken her expertise on tour with her class, "A Beautiful Face: Makeup 101".  She's sharing her skills with friends and fans in nine cities across the US (upcoming dates HERE).  We talked to her about her life in the  of concealing and confidence-boosting and here is what she had to say.
GL: How did you discover your love of makeup?
Alex: As a kid, I was always into the arts. I was an artistic child. As I got older, I started to pay more attention to fashion. I would watch reality shows where they would take someone, and transform them into somebody else. I saw how it made women feel, and how the transformation was just phenomenal. I said to myself, "I could get into something like that."
GL: Do you have any formal training?
Alex: Nope.
GL: Who are some people you look up to or who's work you admire?
Alex: Up and coming artist. To me, the artists on Youtube, Instagram, and Facebook give me a lot of inspiration. As an artist, sometimes you fall into a rut. The girls online are willing to try different things. Seeing them helps you refresh your skills.
GL: What's you best and worst makeover story?
Alex: My best and worst makeover story are about the same client being the best and the worst at the same damn time! A young lady had some acne scarring, blemishes, and spots on her face (like we all do). I just saw her as another beautiful canvas I was going to enhance. I took her before and after picture, and posted it on Instagram. Somehow, the picture got into the hands of a lot of people. Some other makeup artists were calling the picture theirs (which lead me from then on to water mark all my photos). People were saying the picture was photoshopped, saying it was two different people, calling me a witch doing witchcraft; they were goin in! That was the worst. What made it the best was that from it, so many of the right people saw it. It allowed them to see the extent of what I can do as an artist. Many doors got opened from that photo.
GL: Who are some celebritites you've worked with?
Alex: I've worked with Da Brat, Sommore, Pheadra Parks (of The Real Housewives of Atlanta), Tameka Raymond (Usher's ex-wife), the ladies of Love and Hip Hop Atlanta, and some others.
GL: You live in Atlanta. What brought you there?
Alex: Well, I'm from St. Louis. I love my hometown, but I've always wanted to live here.
GL: What are some of your other favorite places?
Alex: I love Miami, because it's ALWAYS a good time! I love Chicago and NY.  I travel doing my makeup classes. I don't really get to spend a lot of time seeing the city. However, all the people in the classes in the various cities receive me very well.
GL: Are there any makeup trends you follow?
Alex: My main trend will always be skin! I want everyone's skin to look flawless. Any client that has been in my care, when they walk away, their skin is going to look dope. That's a trend that will never go dead.
GL: Can you share your future plans? I want to have my own academy or institute. I want something like a Paul Mitchell School. I want artists to come to not only learn to do makeup, but also how to properly pack a kit, what to have on their resume/portfolio, how to act on set- just everything you need to be in this world of chaos and makeup 🙂
Check out some of her beauties below:
Rasheeda Frost on the Love & Hip Hop Atlanta Reunion episode:
Phaedra Parks of Real Housewives of Atlanta in Us Weekly:
Photo courtesy of Us Weekly/Robert Ector
Karlie Redd:
Tamkeka Foster: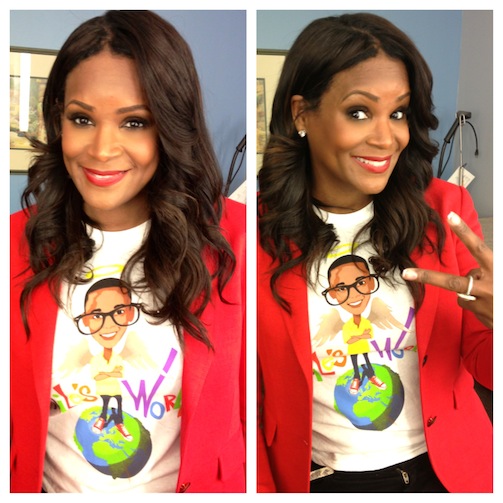 Beautiful Bride:
Skills & Hues!